Jul 11th
Morey Cancer Center accepts donation from CMU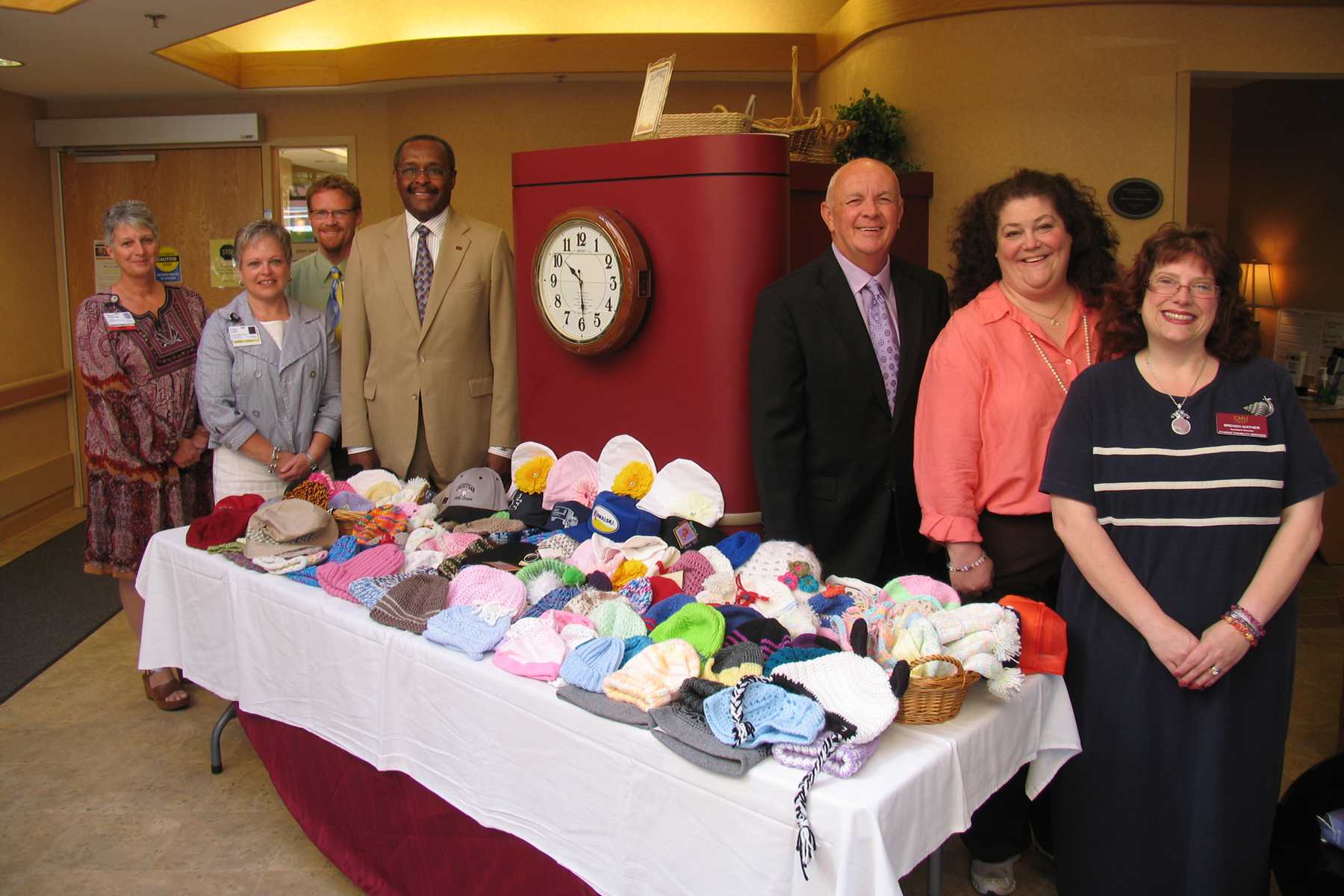 McLaren Central Michigan's Norval K. Morey Cancer Center was the recent beneficiary of more than 350 hats for cancer patients.
Central Michigan University's Professional & Administrative Council chooses a different service project to benefit a local organization every year.  This year, Susie Pletcher-Rood, director of Student Disability Services and P&A council member, organized Hats Off for Cancer, a campaign to collect store-bought and handmade hats to provide comfort to cancer patients.
Pletcher-Rood chose the project in honor of her mother, who died of breast cancer in 1984.  She shared a story about a trip they took together to Cedar Point after her mother had received treatment and was released from the hospital.
"We rode the Gemini, with two nine-year-old boys sitting behind us," Rood said. "Mom planned on holding onto her wig with one hand, and the bar in front of her with the other.  As we descended down one of the large hills, her wig flew off, landing in one of the boy's laps, and the boy started screaming!  Mom decided to throw the wig out after we got off the ride, and we purchased her a hat to wear the rest of the day."
After that, her mother started wearing a hat most of the time, one for her good days, and one for her bad.
"When we started Hats Off for Cancer we were hoping for 100 hats, but we ended up with more than 350," Pletcher-Rood said.  "An 86-year-old, the mother of one of our staff members, made 10 of the hats herself."
There was even a competition between the knitting and crochet groups on CMU's campus to see who could make the most hats.
"The crochet group won," Pletcher-Rood said.
Many individuals who donated hats are cancer survivors themselves.  CMU President George Ross is one of those survivors.  He has a Stetson from when he received treatment, and was present when the hat donation was made to the cancer center.
"We did this to make a difference," Pletcher-Rood said.
McLaren Central Michigan would like to thank all involved in the Hats Off for Cancer project for their thoughtfulness and generosity to the patients at Morey Cancer Center.
http://www.mclaren.org/centralmichigan/News/CMU_Faculty_Students_and_Staff_Donate_Hats_to_More_474.aspx